The Moms at ExtraOrdinary Mothers are having a Launch party on Feb. 9th!!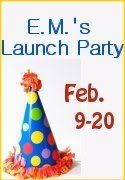 Head on over and check them out... they will be giving away a ton of fun!!
They wanted a site for all moms to come together. Extraordinary Mothers is just that, they've opened a community to help bloggers. From help with reviews, to helping to promote bloggers.