Polymer Clay Snails
has a MeMe called Open Letter Friday.
Write a letter, to anyone. Sister, parent, crazy driver, friend who has decided that a cookout doesn't include meat.
I also included this post under Open Mic Night Friday's!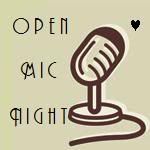 ******************************************************************************
Dear Gain,
Thank you! Thank you for making my clothes smell great. I love how it feels when I am curled up with my blankie and the dryer has heated you into happiness.
You are soft, after I get out of the shower and wrap a clean towel around me; you clean the dirty clothes of my toddler girls whom usually look like small ruffians due to the amount of food/dirt/bugs they get on their bodies.
I would ask, please, that you find a way to create a child-proof lock on the top of your bottle, I would appreciate it.
Why?
Well, allow me to Thank you for making my daughters smell great when they dump you all over themselves in the laundry room. Thank you for making my house smell spring garden fresh, from outside the front door, due to the amount of detergent STILL on my floors.
You make my daughters hair soft after she gets out of her $8.00 bath, which became a luxury spa when I put her in, and the tub filled up with bubbles, just from the detergent they had on their bodies. They were clean, smelling good and incredibly soft skinned, so soft that they kept slipping in the now VERY clean bathtub.
If you could do that, I'd be a loyal customer forever.
Take your time, I'll wait..... I still have a ton of detergent to clean up UNDER the washing machine… I'll be here when you get it figured out, however if you could make the scent mandarin orange I'd appreciate it. I'm all spring gardened out…
Sincerely,
Mommy to six kids, two of whom are proving to outmatch the other four.