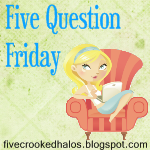 Here are this week's 5 questions - answer them on your own blog and link up at five crooked halos (click the button above) or just pick one and answer it in my comments section so that I can learn more about you!!
1. Do you open presents on Christmas Eve or Christmas Day?
· We used to do it on Christmas Eve, but now we go to Dave's parent's house on Christmas Eve and open a ton of gifts there, so I don't do it at home. This year we only have one kid on Christmas Eve Night… so I'll wrap a gift for her to open that night. The other kids will be at their other parent's house celebrating Christmas Eve and Christmas morning. We will get the other kids around 2 or 3 pm that Christmas Day for dinner/gift opening
2. What is your favorite Christmas cookie (or candy)?
· Hmmm… this is a hard question, probably a candy cane. I love sitting and watching the kids play with their toys while I am sucking on a candy cane. I like the sweet taste and the minty flavor… Mmmmm…
3. What's the worst Christmas gift you've ever received?
· Worst gift? When I was a kid and I thought a gift was a microwave and it turned out to be a dog. I know… that dog was a great pet for years, but to me, I hated that we didn't get the microwave. Weird huh??
4. Christmas song that you love?
· I LOVE Christmas music… Love, Love it. It makes me happy and I've been listening to it since Thanksgiving!! My favorite song(s) are: "Baby it's cold outside" and "The Peanuts Theme song from A Charlie Brown Christmas". The first one makes me smile and feel a little saucy. The second one makes my heart melt…
5. How many trees do you put up?
· Two. One that we cut down (Tomorrow is "Christmas Tree Hunting" day!! YAYAYAY!!). We go up outside of Winter Park, hike FOREVER before I find the tree I love. Then cut it down, drag it back to the truck and then head down to Idaho Springs and eat at Beau Joe's Pizza!!! Mmmmm… Love it! This year… we are walking UP hill to find the tree so we don't have to drag it up the mountain. That is a pain! The second tree is put up for Little Jacqueline (Issa). She has a Birthday tree that is decorated with lights and cute things; we put her birthday gifts under it. She was born Christmas Day and I'd hate for her to lose that special day!!