I really love
5 Minutes for Mom
. They do the
Wordless Wednesday
, they speak from their hearts on many issues and I LOVE the interviews they do for BlogHer. In fact, I hope one year that I get to go, and when I do, I hope to get to meet them and interview with them.
(Right BEFORE
The Bloggess
... Why? Because I have girly love for her and because NO ONE should ever go after her… she's too funny!)
This is the second year that
5 Minutes for Mom
will be doing their Under The Tree, which is a way to give gifts to families in need. If you know of a family that might need gifts or a way to help their Holidays be a little brighter… please nominate them. Who knows what might happen.

They also do a Christmas Giveaway and this year looks like a GREAT start for gifts!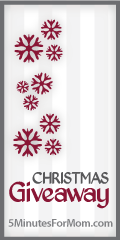 Wanna see what they have? Go visit, sign up.