Mia is an adorable baby who was born with a
dysfunctional
heart and is on a waiting list in Seattle for a heart transplant. I read their family blog and just cried. My heart aches for Mimi (the mom) and is so inspired by her strength and faith. She's with Mia everyday, but because of all the tubes isn't allowed to even hold her.
Mia has been patiently holding on for the past 3 months. But, she's one of 7 babies in the Seattle Children's Hospital on the Washington waiting list. Sadly their insurance is falling short of paying for the surgeries and health care Mia has already
received
.
Please extend the word out and try to help with donations, etc for the pretty little family holding on desperately to their third child.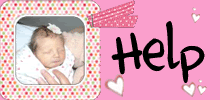 There is also a quilt giveaway at
A Mama Drama
to help get the word out, please go and join them. Little Mia is now 4 months old, and holding on so tightly, please help her along, and spread the word!